My First Lesson
Almost a decade ago on a sunny Saturday morning, I stood at an old wooden privacy fence liberally applying yellow paint to boards that hadn't felt a paint brush in many, many years. Next to me were two middle school aged girl volunteers doing the same.  As we worked, the music of an up and coming artist blared from a "boom box" nearby.  For me it was a great opportunity to strike up a conversation. With genuine interest I asked, "Do you know who is singing that song?" Two sets of eyes rolled and one painter responded, "That's Taylor Swift". Ten years ago that was truly news to me.  But it was also an ice breaker for a conversation that lasted about 15 minutes while we painted. That was the first lesson I learned that day.  This was a great way to engage with kids.
The place was Allenbrook Elementary school. It was an older elementary school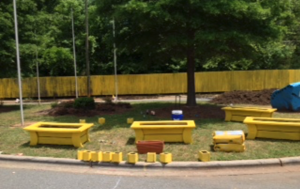 whose grounds needed some attention. As perspective, one of our hosts reported that some of the mobile classrooms in use had been placed on the grounds during the Kennedy administration.  Early in the history of Be There Dad groups in Charlotte, we had volunteered to provide a "beautification day" at the school. About twenty-five dads and moms along with a dozen kids devoted a couple of hours to painting, collecting trash, spreading mulch, trimming bushes and planting flowers.
It turned out to be a wonderful day for me and Be There Dad. We were introduced to the Principal that morning, but otherwise we did not know any of the children or families who attended the school. At the same time, since our Be There Dad nation was in its infancy, I met some of our own dads for the first time. Dads representing different schools from areas around the county. I worked with Mr. Hendrix, Mr. McCartney, Mr. Cox and Mr. Jones – all of whom remain Be There Dads and good friends today.  I had conversations with most of the other student volunteers as well.
By the end of the morning, we had given the school a fresh look. The long fence had been covered with paint of the school colors. Flower boxes were painted to match and filled with new blossoming plants. There was the smell of fresh mulch. Trash had been picked up and bushes trimmed. The place looked good. Our hope was that on the following Monday, the students would find their home school to be more inviting as they arrived for classes.
The Beginning
This day was a critical time in the evolution of Be There Dad. For the first time, dads from different schools had come together. With some direction from one dad leader, we had made a plan and now we had learned how to go about beautifying a campus in a limited period of time. We had reached out to the neighborhood Lowe's and received donations of mulch, flowers and tools. We had focused on the lives of children we did not know and likely would never meet. We realized that working with children volunteers, dads could be role models for hard work and helping others. We gained confidence that we could repeat the process at other schools. We confirmed that the power of presence could be found beyond car pool line and donuts for dads.   After that day, we began using our signature phrase, "Nobody Wins Until We All Do" as we served neighbors we did not know. A picture of that yellow fence appeared on our Facebook and Twitter pages with that phrase overlaid as a constant reminder of one of our core objectives.
Over the next eight years or so, dads have taken that example and addressed the needs of their own schools. Most of the Be There Dad schools now hold a beautification or clean-up day in the fall. Some do the same in the spring. Today, in addition to the dads, they also put out the call to the school community. Dads, moms and other adults from the community participate. Adults bring their own children and often bring older siblings who will acquire service hour credits for their time. What started as a way for just dads to become engaged has evolved into community involvement with dads leading the way.   Beautification days have become embedded in  the culture at most schools.
Play Like A Champion
We have learned that the way the campus looks does influence the behavior and performance of the students. A clean well-kept building and grounds provides an encouraging environment. Students feel a sense of pride when they come to a building that reflects high standards. Students feel a desire to match those expectations.  Being the best you can be. That is an element of character that we can put in every student's back pack – it suggests self-respect, responsibility and a desire to achieve. Sports teams know that the environment contributes to their success. At my alma mater Purdue, the sign in the tunnel leading to the basketball court says, "Time to Play Hard". At our rival Notre Dame, a sign urges the football players to "Play Like a Champion Today" as they enter the stadium. I know that students at both universities carry those expectations to the classroom as well. They have established an environment of excellence.
I wonder if the brightly painted fence and flower boxes at Allenbrook have encouraged children to "play like champions" over the years? I wonder if the neatly landscaped campus causes students to "play hard"? If students realize that someone cared enough about them to trim the bushes and spread the mulch, won't they respond and work harder, too?
The Legacy Continues
Fast forward to early this month.  Piedmont Middle School held a beautification day.  An annual event repeated.  Same routine. Trimming trees. Filling planters with flowers,
spreading mulch. Some painting. For the school building, it was like getting a shower and a haircut. Parents and children working together. Meeting new people.  Conversations among adults and children.  Beautification day. Looking the best you can. Taking care of the school and the community. Filling backpacks with lessons of self-respect and hard work. Taking care of the whole student. Teaching students to take care of themselves and their environment. Leaving it better than they found it.  Lessons of tradition, consistency, and continuity are positive byproducts.  Hopefully, these are experiences and values the students will remember forever.  Perhaps like the music of that "up and coming artist" Taylor Swift, these work days have endured and developed to become part of the culture.
Afterwards the Piedmont campus looked inviting. Does it make a difference? I know of no other school in CMS that shows more pride among their students, staff and community. So I rest my case.  The leader for that day was Mr. Hendrix, the dad who had led us years ago at Allenbrook. He taught us the lessons then and has helped lead similar days at other schools since.  Other dads across the county have followed that lead and have been engaged for years as well.  Every year "new" dads step in and carry on.  Like painting that yellow fence, every year dads apply a fresh coat of "presence".  At Allenbrook a tradition began. Today, the legacy continues. Presence is more than just opening doors in car pool line.