The holidays are approaching, so soon most of us will gather with family and friends around dinner tables where we have gathered many times before.   As I look forward to our own traditions, I am reminded of the impact those gatherings can have.
Guard the treasure that has been
entrusted to you
-2 Timothy 1[i]

On my mother's 77th birthday I escorted her to a celebration with her seventy-something brother and sisters in the small Indiana town where they all grew up.  As they reminisced in my uncle's living room, I listened to the stories, looked at the old photographs and heard the laughter that I had heard many times before. The scene evoked memories of our extended family gathered as we always did every Thanksgiving at the old home place over thirty years before.
I was reminded of how much my family has influenced me; and how much my life had been shaped by the lessons taught when we were together.  Notwithstanding my formal education, much of my knowledge about life, love, family and faith was taught to me by that older generation when we all came together.  What often appeared to be silly campfire songs, funny rhymes, fairy tales and humorous stories were filled with lessons of tolerance, adventure, self-confidence and perseverance.
In the kitchen preparing the holiday meal, we saw how to work together. At the table we learned about sharing. As we prayed we came to understand humility and thankfulness. Engaging conversations deepened our relationships.  With laughter we shared the joy in our lives.  Old stories reconnected us.  Above all, those times together taught us that family is a treasure to be cherished.
Treasure in the Family Chest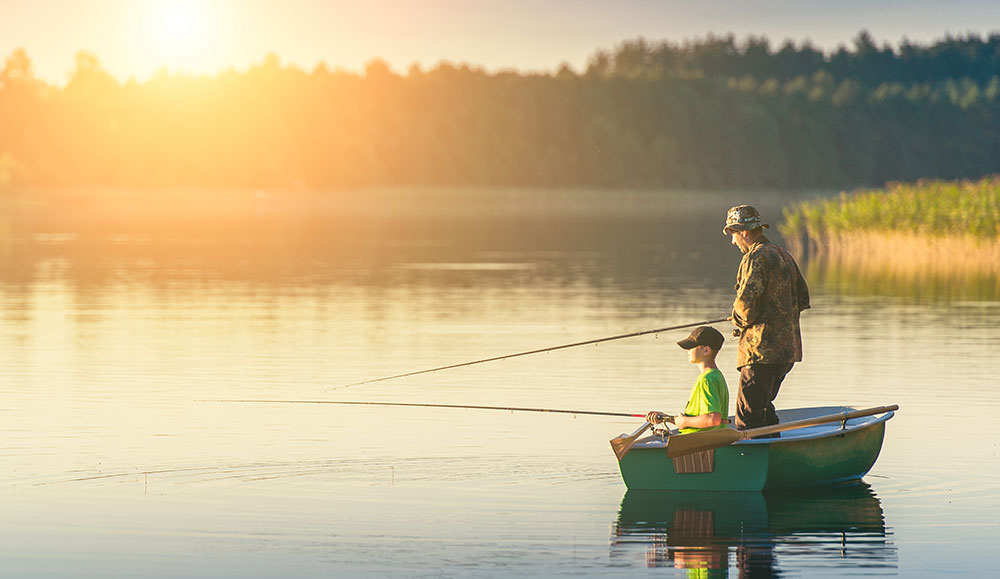 My father loved to fish.  When I was young, he and I would often spend Sunday afternoons at lakes near our home.  Sometimes we fished from a boat, sometimes from a shady bank and in the winter, we even cut holes in the ice.  Today, it is clear to me that on those lazy days, the conversations about worms, fish and rowboats were the building blocks of a relationship between a dad and his son.
Years later, what lasts are the stories of those days and other spent together.  Stories of the fish we caught and the ones that got away.  Stories of nearly falling out of a boat and stories of actually falling out of a boat.  And many more.  Filled with love and laughter, these were the components of a relationship that was unique.  The retelling of those tales we shared kept that relationship alive throughout the years.
I like to call these stories and others like them family folklore.  Like our stories, similar tales have been told around other holiday dinner tables and passed on to generation after generation by Be There Dads and their children.  Sometimes the stories break the ice and start a conversation.  Sometimes the stories re-connect generations. And, sometimes the stories just bring a smile to all who hear them. Those stories are part of the fabric that holds a family together and makes it more than just a collection of people.
In my family, the same stories have been told over and over again.  The stories are as much a part of the holidays as the turkey at Thanksgiving or the tree at Christmas.  When someone starts to tell a story, the family already knows the ending.  But we listen, one more time, and laugh at the appropriate time – as heartily as the first time we heard it.  The holiday is not complete until someone tells the story about…[you know the one]. Like singing Silent Night at Christmas, we all "join hearts" and feel connected one more time.
Family folklore arouses our sense of belonging. Those who know the stories are members of "our family" no matter how they are connected to us.  Those who came before us knew the stories.  Those still to come will learn them.  Folklore is a gift from a father to a child. These stories are "treasures" in the family chest and the unique inheritance of each family.
Be There Dads are the stewards of the family folklore. By our presence, we guard that treasure entrusted to us.  We assure our own family's folklore is passed on to hold us together. We know that family makes us strong.
As you gather with your family this holiday season, remember the importance of telling the folklore that binds you.
Happy Holidays!